We are now done with our season reviews, but that doesn't mean we're done writing for you. Up next is our off-season trade/signings reviews. Wade and I will review all of the biggest trades and free agent signings that have gone down. One of the biggest trades of the off-season happened just a couple days ago. These are the specifics:
Rays Receive:
Minor League Outfielder Wil Myers (MLB Prospect #3, KC Prospect #1)
Minor League Right Hander Jake Odorizzi (MLB Prospect #30, KC Prospect #3)
Minor League Left Hander Mike Montgomery (KC Prospect #6)
Minor League Third Baseman Patrick Leonard
Royals Receive:
Right handed starter James Shields
Right handed starter/reliever Wade Davis
Player to be named later or cash
At first glance, it appears that the Rays won this trade by a long shot. They received 3 of the Royals top 10 prospects and another younger prospect who would have been in the 15 range. James Shields has 1 year left on his contract for 9 Million and a 12 Million dollar club option for 2014. Wade Davis was primarily a reliever in 2012, albeit a successful one. Let's now look into each individual player.
James Shields
Affectionately known as Big Game James, Shields has been fantastic for the Rays the last couple of years. Shields has won at least 10 games in 10 consecutive seasons. His best season came in 2011 when he posted a 2.82 ERA and won 16 games. Shields is a frontline starter who fills a massive need for the Royals. He also comes at the relatively cheap price of just 21 million dollars over the next 2 seasons.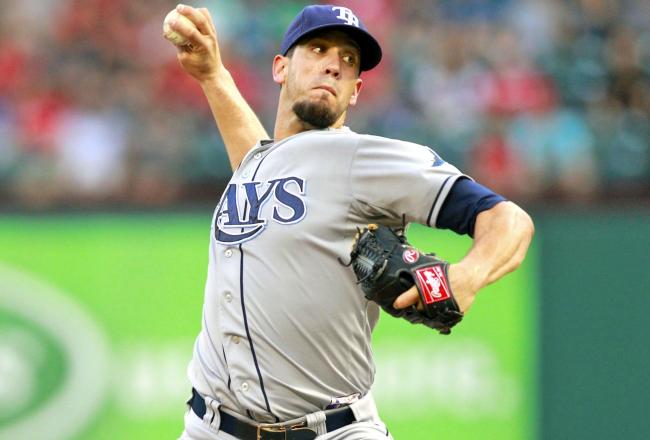 Wade Davis
Davis was a rather successful starter in both 2010 and 2011. Davis won at least 10 games in both years and had an ERA in the low to mid 4's. However, Davis was used primarily as a reliever in 2012. He struck out 87 in just over 70 innings and had an ERA of 2.43. The Royals have already stated that they plan to use Davis as a starter. Davis is owed 7.6 million dollars over the next 2 seasons and club options for 2015-2017 for a total of 25 million.
Wil Myers
Myers is one of the best prospects in baseball, but prospects are far from a sure thing. He had an unbelievable 2012 season in the minors, combining to hit .314 with 37 home runs and 109 RBIs while at double-A and triple-A. Myers was drafted in the third round out of high school in 2009 and just turned 22 yesterday. Some feel that he might have trouble adjusting to big league pitchers, but his numbers at every level of the minor leagues suggest that he will be just fine. Myers should be the everyday right fielder for the Rays in no time, maybe as soon as early 2013.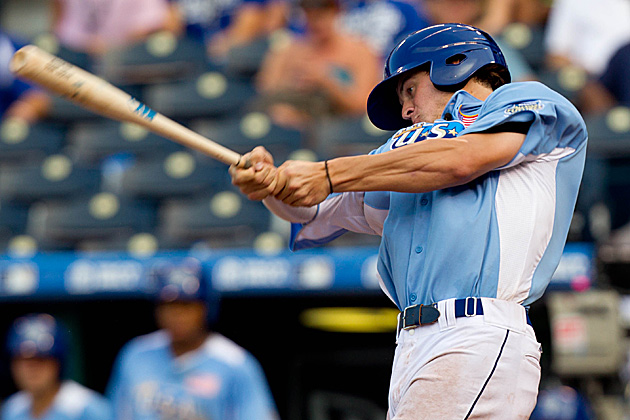 Jake Odorizzi
Odorizzi is almost in the top 30 prospects according to MLB.com. He has now been traded for Zack Greinke and James Shields in his young career. Odorizzi was drafted in the first round in 2008 out of high school. In 2012, he went 11-3 with a 2.93 ERA in the very hitter friendly Pacific Coast League. He also threw 7 and a third innings for the Royals in 2012. Because of the talent the Rays have in the rotation, it might be tough for Odorizzi to start for the Rays in 2013, but he might be able to grab a bullpen spot. He does however project as middle of the rotation starter
Mike Montgomery
Mike Montgomery was also taken in the first round of the draft in 2008. The 23 year old entered 2012 as the Royals top prospect, but he had a miserable season in AAA. I see him as being more of a reliever in the future, especially because of the depth of talent that the Rays have in the starting rotation.
Patrick Leonard
Leonard was taken in the 5th round of the 2011 draft. He enjoyed a pretty successful full season in rookie ball in 2012. Leonard hit 14 home runs in just 62 games, showing that he definitely has some pop. It is too early to tell how Leonard will project, but 2013 will be able to give everyone a much clearer picture of his potential moving forward.
Winner-Tampa Bay Rays
James Shields is a very successful Major League starter, and Wade Davis has proven that he can be effective as a starter, but the Royals gave up a haul to get them. While I commend Royals GM Dayton Moore for making a big time move to address a huge need. If the Royals make the playoffs behind Shields and Davis, then this trade can definitely be seen as a success for the Royals. However, I fully expect Myers to be the everyday right fielder for the Rays for years to come. Odorizzi should be in the rotation going forward as well. While Montgomery has struggled recently, I can definitely see him being a successful reliever in the future. This package should have been one that acquired David Price from the Rays, not James Shields. The Royals definitely overpaid to get their man, but I do tip my hat to Moore for going for it, especially given their good young core of position players. If all of the cards fall in their favor in 2013, the Royals can definitely be a contender.