New York Yankees (95-67) First Place American League East
The New York Yankees were the New York Yankees for the most part in 2012. They were everything that people would think of and the drama surrounding the team was exactly what would be expected from a Yankees team. The drama started early in the season when Mariano Rivera tore his ACL while shagging fly balls before a game. The drama continued when Alex Rodriguez did not have an Alex Rodriguez-like season. Rodriguez was pinch hit for in the playoffs by Raul Ibanez who cracked a game winning home run. Late in the Yankees playoff run, A-Rod was caught asking for a fans number during a game. Rodriguez apparently tossed had a Yankee employee toss a ball to a female fan. I mean really he is A-Rod and we all think this doesn;t happen in almost every Major League park in America? Not to let this cloud the Yankees great season but check out the chick on the left.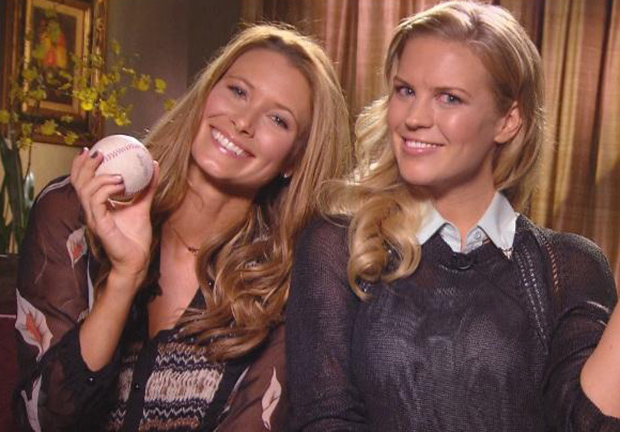 Pitchers- The starting staff was great in 2012 and was the backbone of the team. Hiroki Kuroda was brilliant for the Yankees as he started 33 games, winning 16 games with a 3.32 ERA. Kuroda struck out 167 batters in 219.2 innings. Phil Hughes won 16 games in 2012 in 32 starts with a 4.23 ERA. C.C. Sabathia started 28 games and was able to win 15 of them. Sabathia led the Yankees with 197 strike outs. Ivan Nova was a surprise for the Yankees starting 28 games and winning 12 games. Nova was able to put together some good wins for the Yankees on their way to the ALCS. Fill in closer Rafael Soriano was awesome in 2012 converting 42 saves. Soriano had an astounding 2.26 ERA. David RObertson was also great out of the bullpen with a 2.67 ERA.
Infield- Robinson Cano is AWESOME!!!!!!!!!!!!!! Cano batted .313 with 33 home runs and 94 runs batted in. Cano also scored 105 runs. Cano also contributed in the field and took home the gold glove in the American League. Derek Jeter had a great year. Jeter batted .316 and hit 15 home runs. I'm not a big Jeter fan but he had a hell of a 2012 season. Mark Teixeria was himself in 2012 knocking out 24 home runs and driving in 84 runs while hitting .251. Alex Rodriguez was okay 2012 hitting .272 and hitting 18 home runs and driving in 57 runs. Catcher, Russell Martin knocked out 21 home runs for the Yanks.
Outfield- Chicago native, Curtis Granderson hits bombs and drives in runs. In 2012, he did more of the same. Granderson led the Yankees with 43 home runs and 106 RBIs. Granderson also scored 102 runs. Nick Swisher was great in 2012. Swisher hit 24 home tuns and drove in 93 runs. Swisher also hit .272. The final outfield spot was inconsistent and filled with a lot of different players. The big news of the year came when the Yankees acquired outfielder Ichiro Suzuki from the Seattle Mariners. Ichiro batted .322 for the Yankees in 67 games. Ichiro actually led the Yankees in stolen bases for the season with 14 in his limited action.
Granderson sporting his T.F. South gear in high school.
Twitter Accounts of the Day: Nick Swisher, follow him @NickSwisher and Curtis Granderson @cgrand14
Check back all week as we keep you up-to-date on all the news from the Winter Meetings and as we finish out 2012 Season Reviews with the Detroit Tigers and World Series winner San Francisco Giants.