Chicago Cubs
(2012: 61-101, 5th place NL Central)
(2013: FC Prediction: Last place NL Central)
This is a blog I have really been looking forward to writing ever since we started The Full Count. For you die hard Cubs fans, I'm going to go a little bit more in depth than I do with the other teams, simply because people might actually read this one, so enjoy!
The Cubs enter year 2 of the rebuilding process. Year 1 had its ups and downs (mostly downs), but the Cubs appear to be heading in the right direction. A minor league system that was ranked in the bottom third entering the 2012 season is now a consensus top 10, and even a top 5 by some (ESPN's Keith Law, who is a notorious Cubs hater). That is a great sign of things to come for the North Siders.
Dale Sveum also enters year 2 with the Cubs, and despite the record of the club last year, Sveum got rave reviews from both the players and the front office. Sveum seems to be the right combination of a player's manager and a hard ass to get the job done. The Cubs have made a lot of changes heading into 2013, but hey, you can't get worse than 101 losses, right??? It enters year 105 since the Cubs last World Series, but Cubs fans, don't hold your breath for this year either.
Let's dig in deeper to these new look Cubbies:
PITCHERS:
Matt Garza returns to the mound in 2013, coming off a late season elbow injury, but the big question is how long will Garza be with the Cubs. A reliable number 2 starter, Garza needs to show he can come back healthy and that should lead to the Cubs either trading him, or signing him to an extension. While the Cubs could get a couple nice pieces for him, I personally hope the Cubs can ink him to an extension in the 4 year, 55-60 million dollar range. Jeff Samardzija also returns, hoping to improve upon his strong 2012 season, where he led the Cubs in strikeouts. If "The Shark" can repeat his success, then he has the makings of a solid number 2 as well.
After missing out on Anibal Sanchez, the Cubs inked Edwin Jackson to a 4 year, 52 million dollar deal. While some feel they overpaid, I believe the Cubs did great to sign E-Jax. He has been incredibly consistent throughout his career, throwing around 200 innings and having an ERA in the high 3's or low 4's every year. He makes a great number 3 for the Cubs. Where the rotation gets interesting is in the 4 and 5 spots. Returner Travis Wood and newcomers Scott Baker, Scott Feldman, and Carlos Villanueva will all battle for those last 2 spots. With Baker coming off Tommy John surgery, I see him starting the season on the DL. To me, Wood and Feldman have the inside track on those last 2 spots. Villanueva has typically had more success in the bullpen and would make a great long reliever and spot starter.
The Cubs bullpen will be very interesting in 2013. Closer Carlos Marmol returns, and will resume his role, but I fully expect Marmol to be traded at some point in 2013. That leaves Japanese import Kyuji Fujikawa to close out games. The early scouting report on him is that he attacks hitters and has very good stuff, so I look forward to seeing him out of the pen. Lefty James Russell and righty Shawn Camp return in 2013, and look for both to be heavily used again this year. After this, the battle for the last couple spots get very interesting. Michael Bowden pitched well at the end of 2012, so he might have an inside track, but guys like Alberto Cabrera, Rafael Dolis, and rule 5 draft choice Hector Rondon will look to challenge for the last couple bullpen spots.
As far as prospects go, the Cubs are pretty thin when it comes to pitching. Arodys Vizcaino is coming off of Tommy John surgery and if can regain his stuff, could be at the back end of the Cubs bullpen in 2013. Dillon Maples, Pierce Johnson, and Paul Blackburn are all at least a couple of years away, but there is some talent in that group. Vizcaino is definitely the best of the bunch though, and could be the future closer of this team if he can't stay healthy enough to be in the rotation.
LINEUP:
While there are some bright spots in the Cubs lineup like shortstop Starlin Castro and first
baseman Anthony Rizzo, the Cubs aren't expected to put up a great deal of runs again in 2013. Look for Castro and Rizzo to improve upon their very successful 2012 seasons and continue to knock the ball around Wrigley Field.
The outfield is very interesting. Left field is manned again by Alfonso Soriano, who had a great year at the plate and in the outfield in 2012. However the question with Soriano is when will he be traded. I look for a team like the Rangers or Rays to push for Soriano as they need a bat later in the season. Center fielder David Dejesus returns in center, but again, with the Cubs looking to go young, he could be traded at any time. Right field looks to be a platoon between Scott Hairston and Nate Schierholtz. Hairston crushes lefties and Schierholtz has a great history against righties so this platoon could be wildly successful if all goes to plan.
Rounding out the infield you have third baseman Ian Stewart and second baseman Darwin Barney. Barney had an amazing season with the glove in 2012, but he needs to pick it up with the bat if he expects to be part of this team's future moving forward. Stewart is finally healthy, but he is good enough with the bat to stick at third? Luckily for him, Valbuena isn't a great hitter either, and Stewart is as steady as they come defensively, so he gets the nod. Behind the plate, catcher Wellington Castillo looks to continue the success he had late in 2012. Castillo is a good hitter and has a cannon for an arm, but his pitch calling has been questioned. Backup Dioner Navarro should be a good mentor for Castillo and could push him for the job if Wellington struggles early.
When you look at the Cubs position player prospects, you have to be excited for the future. Javier Baez, Albert Almora, and Jorge Soler are all in the top 50 prospects in baseball and all should be in the bigs by the start of 2015. Brett Jackson remains an interesting prospects. After a brutal 2012 where he struck out in half of his at bats at the big league level, Jackson will start in AAA where he will look to make the same type of adjustments that Anthony Rizzo made following his big league debut. Jackson made huge swing changes in the off-season, and the early reviews of his revamped swing have been good. Junior Lake is also very interesting. The guy is a freak athlete with a cannon for an arm. Lake at the worst should be a super utility player for the Cubs, starting possibly in 2013. My favorite Cubs prospect is Dan Vogelbach, otherwise known as Jabba the Cub. The Prince Fielder body double has the same exact skill set as Fielder. His weight is an issue, but word is he has slimmed down this off-season and already has been seen as athletic for his size. There is no questioning the guys bat, as he not only has light tower power, but he also hits for contact and sprays the ball all over the field. Best case scenario, the Cubs have Prince Fielder's twin in their minor league system.
NON-ROSTER INVITEE TO WATCH:
There are a lot of interesting names here including relievers Jaye Chapman, Jensen Lewis, Dayan Diaz, Dontrelle Willis, and Hisanori Takahashi, as well as outfielder and first baseman Brian Bogusevic, but the guy with the best chance to make the roster is super utility man Brent Lillibridge. Lillibridge can play all three outfield positions, as well as short, second, and first. Hell, the guy could probably catch if you asked him too. Because of this, I fully expect Lillibridge to make this team.
PROGNOSIS:
In a relatively strong NL Central, the Cubs don't look to be able to compete again in 2013. They might be destined for last place again but a great season and struggles by teams like the Brewers and Pirates might propel the Cubs as high as third. I just don't see anyway possible, even as optimistic a Cubs fan as I am, that they can compete with the Reds and the Cardinals this year. However, look for some youngsters like Albert Almora, Jorge Soler, and Javier Baez to make strides this year and possibly push the Cubs roster in 2014.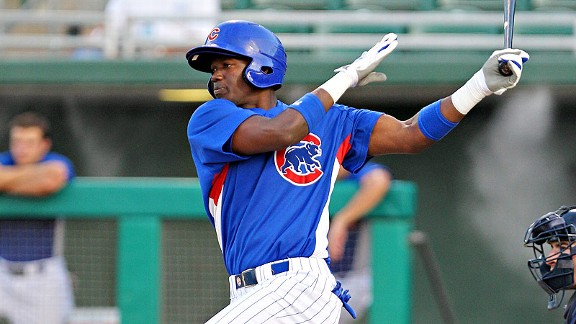 TWITTER ACCOUNT OF THE DAY:
Definitely have to go Ian Stewart here @
IAN_STEWART_2sc The guy loves to respond to tweets, especially if someone is bad mouthing him.
As a special bonus for you Cubs fans, here is my projected opening day roster. We can revisit this on opening day and see how many I got correct.
RP Shawn Camp
RP Hector Rondon
OF Dave Sappelt if they carry 12 pitchers or RP Hisanori Takahashi if they carry 13 pitchers
Agree with me?? Disagree with me?? Share your opinions either way!!