New York Yankees
(2012: 95-67, 1st Place AL East)
(2013: FC Prediction, 3rd place AL East)
The Yankees in 3rd place??? Are you guys freaking nuts??? The Yankees are a great franchise, but the fact of the matter is that this team is aging, injured, and just didn't do much to improve in the off-season, while the rest of the division got better. The AL East will be a dog fight in 2013 and any one of these 5 teams could probably win this division.
Perhaps the biggest story surrounding this team is what is going on with Alex Rodriguez. Rodriguez had hip surgery and will be out a couple of months, but the off the field issues with more allegations of performance enhancing drugs might add to the distraction. It is hard to think that A-Rod will be very effective if and when he does return to the Yankee lineup. Derek Jeter coming off is ankle injury is also a big issue. Jeter hopes to be ready by the start of the season, but how close to 100% will he be?
Let's take a closer look at why we think the Yanks will miss the playoffs in 2013:
PITCHING: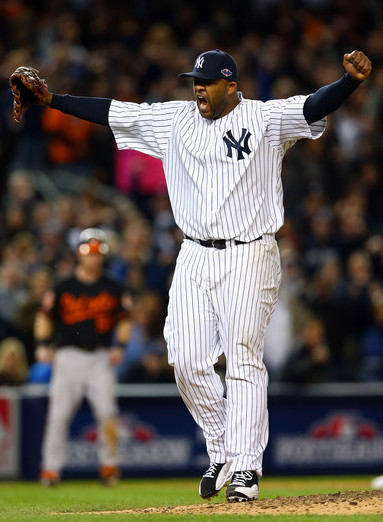 The Yankees have some solid starting pitching, but they are definitely aging. Ace C.C. Sabathia should be the one constant here. He is an innings eater and is among the most reliable starting pitchers in the big leagues. Andy Pettite and Hiroki Kuroda were both effective last year, but Pettitte is now 40 and Kuroda is 38. I expect a bit of regression from these two in 2013. Behind them are Phil Hughes and Ivan Nova. Both have the stuff to be quality big league pitchers, but both have had command issues in the past. I look for Hughes to take a step and to be a very quality starter in 2013.
The Yankees bullpen loses Rafael Soriano, but returns the greatest closer in the history of the game Mariano Rivera. The question here is how much does Rivera have left? With the movement on his cutter, I don't think it matters, as he will most likely return his usual self. The bullpen also returns guys like David Robertson, Boone Logan, and Joba Chamberlain. All have been quality relievers the past couple of years for the Yanks and should continue this trend.
When it comes to Yankees pitching prospects, all you have to do is look at last years top prospects Manny Banuelos and Dellin Betances to see how far they have fallen behind. Last season, they were the Yankees 1 and 2 ranked prospects. This year, they are 5 and 19 among Yankees prospects. This season will be very important for both, especially Banuelos, who will need to cut down on the walks if he wants to make it to the big leagues.
LINEUP:
Like the pitching staff, the lineup is full of veterans. Power hitting first baseman Mark Teixeira returns and should be his usual self, hitting 30 home runs and driving in close to 100, with an average in the .250 to .275 range. Second baseman Robinson Cano is one of the best hitters in the game and there is no question he will produce. The new Yankee third baseman is Kevin Youkilis, made Red Sox fans everywhere cringe when he decided to put on the pinstripes. Youk is getting up there in age, but he still can stick a bit and play average defense at third. Shortstop Derek Jeter is coming off a serious injury, so he should be slow to start, but his bat should be ok, even if his defense takes a bit of a hit.
After losing Russell Martin behind the plate, the Yankees decided not to upgrade at the position. I think this was a huge mistake. While Francisco Cervelli is a decent catcher, I just don't feel that is a consistent Major League starter behind the dish. The new designated hitter will be former Indian Travis Hafner. Hafner will need to stay healthy, but if he can, he should put able to put up some decent power numbers with the short porch in right field at Yankee Stadium.
The Yankees across the outfield will have Brett Gardner in left, Curtis Granderson in center, and Ichiro in right. If Gardner can avoid injury, he should be able to get on base and cause some havoc on the base paths. Granderson will do what he always does, hit home runs, mostly against righties. Ichiro is getting up there in age, but still has a little bit left, as he proved after coming to the Yankees later in 2012. Ichiro will look to end his career on a high note with a World Series champion.
The Yankees have some very high quality hitting prospects, but their best ones aren't quite ready. Catcher Gary Sanchez and outfielder Mason Williams both have promising careers ahead of them, but you most likely won't see them in pinstripes until 2015. They should look to fill in nicely once the Yankee veterans start to get up there in age.
NON-ROSTER INVITEE TO WATCH:
There aren't many quality names being invited to Yankees camp, but Jayson Nix probably has the best chance to stick with the team. He can backup at third, second, and short and might get a fair amount of reps at short if Derek Jeter has a set back with his recovery. Nix definitely has the best shot to make this team and might even be a virtual lock to make the club out of Spring Training.
PROGNOSIS:
The Yankees could very easily prove us wrong and win this division, but the AL East is an extremely tough division with five teams that will compete day in and day out. To me, the Yankees are just getting up there in age and I don't know if they'll be able to compete with the Blue Jays and Rays. The Yankees will score a fair amount of runs, but I don't know if they'll be able to hold their opponents. Outside of Sabathia, there are a lot of question marks in this rotation and I don't think they match-up great with the rest of the teams in the division.
TWITTER ACCOUNT OF THE DAY:
The Yanks have some players with a very high number of followers, but the main guy that I like to check in on is CC Sabathia. He is a very entertaining guy and an overall great follow so go check him out @CC_Sabathia