Colorado Rockies (64-98) - Last place NL West


The Rockies struggled in 2012, despite high expectations heading into the season. As always, Coors Field was a nightmare for pitchers. The Rockies, thanks to their home field, led the Major Leagues in batting average, but were last in the league in ERA. The only thing the Rockies became famous for in 2012 was trading NLCS MVP Marco Scutaro to the Giants mid-season.
Pitchers- As mentioned earlier, Coors Field was at the heart of the team with the worst team ERA in the major leagues, but injuries and inexperience didn't help either. Their home ERA of 5.97 was more than a full run higher than any other team in the major leagues. The Rockies had 10 pitchers with at least 10 starts, and overall had 14 different pitchers make a start. Youngsters Alex White, Drew Pomeranz, and Evanston native Christian Friedrich all struggled, especially at home, with Pomeranz being the best of the group with an ERA just under 5. To illustrate how bad the injuries were, Jeff Francis was the only Rockies starter to surpass 100 innings. The bullpen was a bit better than the rotation, with strong performances from Josh Roenicke, Matt Belisle, and Rex Brothers. Closer Rafael Betancourt was the best of the bunch, converting 31 of 38 save opportunities while maintaining a 2.81 ERA and striking out just about a batter per inning.
Infield- Injuries were also a problem in the infield for the Rockies, with the biggest being to superstar shortstop Troy Tulowitzki. While Tulowitzki going out was a huge blow, backup Jose Rutledge stepped in right away and filled Tulo's shoes pretty well before cooling off late in the year. 3rd basemen Chris Nelson and Jordan Pacheco both finished with averages above .300. Neither showed much power, but both proved to be quality bats in a very strong Rockies lineup. Former Cub 2nd baseman DJ LeMahieu did what he had become known for in the minor leagues, hitting singles all over the field to the tune of a .297 batting average. Catcher Wilin Rosario surprised everyone with his power numbers. He led the team with 28 home runs in just under 400 at bats. Mainstay 1st baseman Todd Helton struggled this year before getting injured, but Helton is a legend in Colorado and will surely have his number retired for the Rockies when he decides to call it quits.
Outfield- Carlos Gonzalez is the best player on this team, and might be the best player in all of baseball. In addition to his .303 average, 22 home runs, 85 RBIs, and 20 steals, he also added his 2nd gold glove award to his resume. Former Cub Tyler Colvin was the big surprise in the outfield, hitting .290 and clubbing 18 home runs. The outfield was rounded out by speedsters Eric Young Jr. and Dexter Fowler. Both got on base a ton, with on base averages of .377 and .389 respectively, and both hit for a high average, .316 and .300. These table setters will need to continue to get on base and steal bases in order for the Rockies to continue their offensive success in 2013.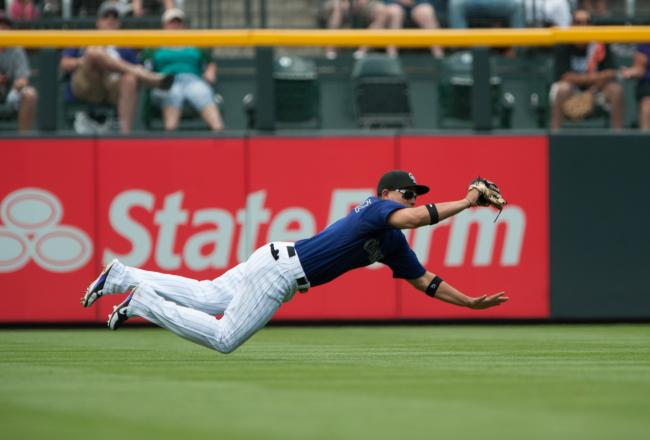 Gold Glove winner Carlos Gonzalez was a superstar for the
(picture courtesy of bleacherreport.com)
Next Up- Monday November 5th, Cleveland Indians