Texas Rangers (93-69) Second Place American League West Wild Card Berth
The two-time World Series runner-up Texas Rangers looked to get over the hump in 2012, but the Rangers ended up falling short, losing in the wild card round to the Baltimore Orioles. To say the 2012 season was a disappointment would be harsh, but to say it was a success, would be a lie. After being in first place for the majority of the year, the Rangers lost the last game of the season to the Oakland Athletics, to slide into the Wild Card game. The Rangers underachieved in 2012, but the players put up great numbers in 2012.
Pitchers
- The starting staff was depleted due to injuries as 11 different players made starts on the bump. The best of the bunch was Matt Harrison who started 32 games and put together 18 wins with a 3.29 ERA. The big lefty struck out 133 batters in just over 213 innings. Rookie Japanese sensation, Yu Darvish was awesome in 2012. Darvish won 16 games and struck out 221 hitters in 191.1 innings. Darvish also had a 3.90 ERA. Darvish finished third in the Rookie of the Year voting behind phenom Mike Trout and Oakland A's outfielder Yoenis Cespedes. The experiment of Neftali Feliz moving to the rotation looked like a great idea through 7 starts before Feliz went down with an injury. Feliz was 3-1 in his 7 starts. Derek Holland made 27 starts for the Rangers and won 12 games. Look for Holland to break out in 2013. Joe Nathan was brilliant closing converting 37 saves out of 40 chances. Nathan sported a 2.80 ERA. Alexi Ogando and Mike Adams were once again great for the Rangers.
Infield
- Adrian Beltre was absolutely brilliant in 2012. Beltre lead the Rangers in average hitting at a .321 clip. Beltre hit 36 home runs and drove in 102 runs. Beltre also scored 95 runs. Beltre also won the gold glove at third base in the American League. Elvis Andrus was once again good for the Rangers hitting .286 and scoring 85 runs. Andrus stole 21 bases. Andrus was also great in the field for the Rangers as he was a gold glove finalist. Ian Kinsler only batted .256 but it 19 home runs and drove in 72 runs. Kinsler also stole 21 bases tying Andrus as the team leader. Kinsler led the Rangers in runs scoring 105. Mike Napoli was the ghost of himself in 2012. After a career year in 2011, Napoli disappeared in 2012. Napoli only hit .227 but hit manage to hit 24 home runs, but only drove in 56 runs. Utility man Michael Young gave the Rangers exactly what he has done consistently over the past five years. Young batted .277 and scored 77 runs for the Rangers. Jurickson Profar was brought up late in the season and did not perform up to what most would have liked. He will only get better as time goes and look for Profar to make a big impact in 2013.
Outfield
- Josh Hamilton is a stud. There is always a concern when it comes to Hamilton, but he did not disappoint in 2012. Hamilton led the Rangers with 43 home runs and 128 RBIs. Hamilton also scored 103 runs. Hamilton only batted .285, but that is not the stat that matters. Hamilton's OPS was .930. The outfield production does not stop after Hamilton, Nelson Cruz is also a a great hitter. Cruz belted 24 home runs and drove in 90 runs. David Murphy was great for Rangers as well. Murphy batted .304. Murphy is a great average hitter, but that is about all he brings to the table.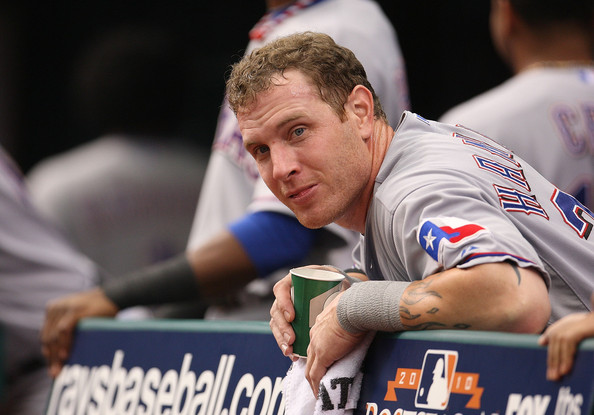 Twitter Account of the Day Follow Pitcher Derek Holland @Dutch_Oven45.
Don't forget to follow us on Twitter @WadeCArthur @TommyM44 and @cniermann
We are also proud to announce we now have a twitter page. Follow us @FullCountBlog for all the latest news and our thoughts on what is going on.in the baseball world.
Check back all week as we continue our Hot Stove Wrap Ups and our 2012 Season Reviews.