Josh Hamilton surprised the baseball world when he signed with the Los Angeles Angles for 5 years and 125 million dollars. To break it down a little bit, here is how the money looks per season (all figures courtesy of mlbtraderumors.com)
Upfront-10 million
2013-15 million
2014-15 million
2015-23 million
2016-30 million
2017-30 million
The remaining 2 million will go to charity and the deal features a full no trade clause, and while there is no language in the contract about off the field issues, the Angels have hired Hamilton's accountability partner, Shayne Kelly.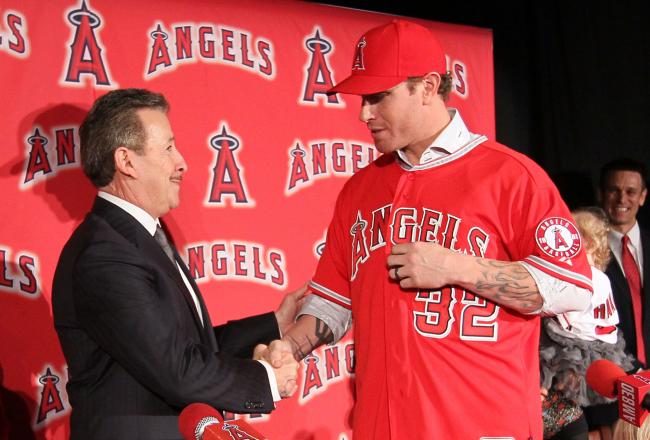 Hamilton and Angels owner Arte Moreno at Hamilton's introductory press conference
Chris has already pointed out some facts about this deal, but there are a couple of things that stand out to me.
1. This lineup is immediately one of the best in the big leagues. Trout leading off with Pujols, Hamilton, and Trumbo making up the heart of the order is extremely scary. I really do feel bad for the Houston Astros. While this signing makes the Angels better, it also took Hamilton away from the two other teams that were in the lead to sign him, the Texas Rangers and the Seattle Mariners, both division rivals.
2. Hamilton is an extraordinary talent, but did the Angels really have a need for him?? Angels GM Jerry Dipoto has spent all off-season raving about Peter Bourjos, so it was extremely surprising that they pulled the trigger on Hamilton, especially given that Angels owner Arte Moreno told Torii Hunter that money was very tight. While Hamilton definitely makes the Angels better now, he is 31 years old and while he hasn't missed substantial periods of time, he has had nagging injuries the past couple of years.
3. There is no question Hamilton is great with the bat. Since joining Texas in 2008, his worst season (not including his injury plagued 2009), was 2011, when he hit .298 with 25 home runs and 94 RBIs. One number that is a bit scary was his strikeout total in 2012. He struck out a career high 162 times, 36 more times than his previous high. One big question mark is Hamilton's defense. He is not great with the glove, and while the Angels' offense will get much better, their outfield defense will definitely take a hit with Hamilton instead of Bourjos. Trout and Bourjos in center and left would have been one of the best defensive outfield combos in the league.
Verdict-There is absolutely no doubt that signing Josh Hamilton will be a boost to the Angels' lineup in 2013 and beyond. I do however question whether they should have spent the amount of money they did on someone that didn't really fill a hole. But I guess that you should sign the best players available, regardless of need. Hamilton and Pujols are right up there as the best 3-4 combo in the league. They did give Hamilton a lot of money as well, as he will be making 30 million dollars as a 36 year old and I am not a huge fan at all of the full no trade clause for the entire contract. I guess I am just extremely impartial to this signing. The Angels definitely got better, but at what cost? If Arte Moreno is ok stomaching his enormous salary, then it is a good signing because after all, it's his money, not ours right?
And just to end this post, take a look at this, the salaries that the Angels will be paying to 4 players in 2016 (courtesy of Cot's Baseball Contracts)
Josh Hamilton-32.4 Million
Albert Pujols-25 Million
Jered Weaver-20.2 Million
CJ Wilson-20.5 Million
Yes, that is 98.1 Million dollars.....FOR 4 PLAYERS!!! Now look at your next paycheck and think about how long it would take you to make that kind of money, but don't let it ruin your day.

Don't forget to follow us @FullCountBlog and give Josh a follow @thejoshhamilton