Some would call Brandon McCarthy being able to throw a baseball again a miracle, and I would agree. On September 5, McCarthy was hit in the head with a line drive off the bat of Erick Aybar. This fractured McCarthy's skull and he had to spend time in the hospital and had to have surgery to relieve pressure on his brain. As a former baseball player, watching the video of McCarthy's accident, was heart wrenching, but what transpired while McCarthy was away from the team was inspiring. Not only was McCarthy okay from the injury, he kept his sense of humor along the way. He thanked fans throughout his recovery and was even more than appreciative to what the Oakland Athletics did for him. For anyone who follows MLB players on Twitter, we know that McCarthy is a great guy and it is awesome to know that he is doing well and signed a 2 year $15.5 million contract (according to Baseball Reference) with the Arizona Diamondbacks after passing his physical and being cleared for action.
Details
Year 1: $5.25 million
Year 2: $10.25 million
Brandon McCarthy is going to give the Arizona Diamondbacks a veteran arm in the rotation. The Diamondbacks rotation was already solid with the likes of Wade Miley, Trevor Cahill, Ian Kennedy and Daniel Hudson. McCarthy was having a great year in Oakland before he was sidelined with shoulder problem. Coming into the year, McCarthy was slated as their ace and he did not disappoint. Before the All-Star Break, McCarthy made 12 starts,winning 6 games and sported a 2.54 ERA. McCarthy is a good pitcher and is even a better guy.
What does Brandon McCarthy bring to the table?
McCarthy brings a veteran arm that could let the young arms mature for the Diamondbacks. Tyler Skaggs is one of the arms that could benefit from McCarthy's presence as he was not very good last year in very limited time. McCarthy will be a great guy in the clubhouse for the Diamondbacks and will be able to be a veteran presence for the young guys to bounce ideas off of. McCarthy will also be reunited with former Oakland Athletics teammate, Trevor Cahill. I think this could be very good for both McCarthy and Cahill as they are great friends. I look for McCarthy to be a #4 or #5 starter and give the Diamondbacks a very dependable arm, if healthy. McCarthy will sure up the back end of the rotation for the Diamondbacks and makes them a contender in the National League West. In my opinion, McCarthy will win 15 games in 2013 for the Diamondbacks.
Follow McCarthy on Twitter @BMcCarthy32 for hilarious tweets and don't be afraid to follow his wife as she can bring the hammer as well when it comes to humor, @Mrs_McCarthy32.
Check out the couple together in their Oakland A's gear, looking forward to some pictures in Diamondbacks gear.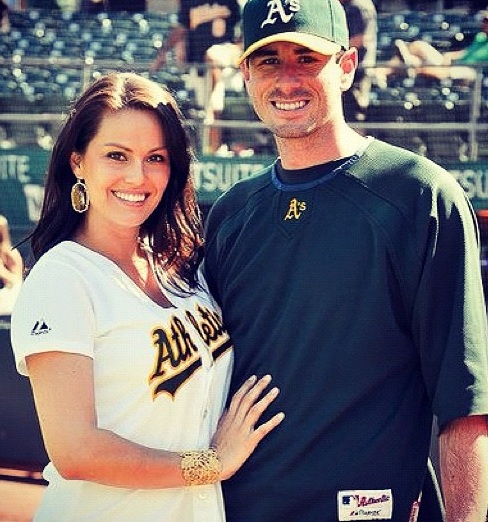 Follow out blog @FullCountBlog and like us on Facebook http://www.facebook.com/thefullcountblog.