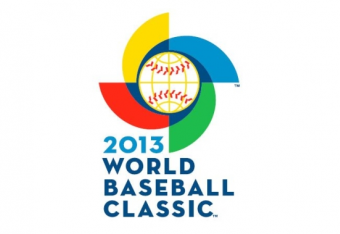 The United States roster for the World Baseball Classic was released this morning, and as expected, it leaves a lot to be desired. Here are the guys that have committed to playing:
USA USA USA!!!
Catchers
Joe Mauer (Minnesota Twins)
Jonathan Lucroy (Milwaukee Brewers)
J.P. Arencibia (Toronto Blue Jays)
Infielders
Mark Teixeira 1B (New York Yankees)
Brandon Phillips 2B (Cincinnati Reds)
Jimmy Rollins SS (Philadelphia Phillies)
David Wright 3B (New York Mets)
Ben Zobrist UT (Tampa Bay Rays)
Willie Bloomquiest UT (Arizona Diamondbacks)
Outfielders
Ryan Braun (Milwaukee Brewers)
Adam Jones (Baltimore Orioles)
Giancarlo Stanton (Miami Marlins)
Shane Victorino (Boston Red Sox)
Starting Pitchers
R.A. Dickey (Toronto Blue Jays)
Kris Medlen (Atlanta Braves)
Derek Holland (Texas Rangers)
Ryan Vogelsong (San Francisco Giants)
Derek Holland (Left) will bring his Harry Caray impersonation to the WBC
Relief Pitchers
Jeremy Affeldt (San Francisco Giants)
Vinnie Pestano (Cleveland Indians)
Chris Perez (Cleveland Indians)
Craig Kimbrel (Atlanta Braves)
Tim Collins (Kansas City Royals)
Heath Bell (Arizona Diamondbacks)
Steve Cishek (Miami Marlins)
Glen Perkins (Minnesota Twins)
Mitchell Boggs (St. Louis Cardinals)
Luke Gregerson (San Diego Padres)
My Thoughts
I like the lineup a lot for team USA. They got some of the best guys at their position all the way around. Sure there are some big names missing like Troy Tulowitzki, Evan Longoria, Buster Posey, Andrew McCutchen and Prince Fielder, but Phillips, Wright, Teixeira, Stanton, Jones, and Braun are all great players. The addition of Zobrist and Bloomquist, who can both play pretty much any position is an extremely smart decision by manager Joe Torre. I would have the lineup looking something like this:
Phillips 2B
Mauer C
Braun LF
Stanton RF
Wright 3B
Teixeira 1B
Jones CF
Rollins SS
Victorino DH (maybe outfield somewhere)
This lineup would be stacked, although it could be arranged a lot of different ways. I think the set in stone spots should be Braun and Stanton hitting 3-4. That's a whole lot of pop in the middle of the lineup.
The pitching staff on the other hand is not so great. I love Dickey being in there, as he has earned it with his recent performance. Guys like Medlen, Vogelsong, and Holland are all good pitchers, but the list of guys that aren't on this roster are GREAT. Guys that could have been on the roster include David Price, Justin Verlander, Clayton Kershaw, Matt Cain, Stephen Strasburg, CC Sabathia, Jered Weaver, Zack Greinke, Cole Hamels, and Cliff Lee. There is a lot of talent in that pool, yet none of them will be pitching for the stars and stripes for various reasons. Not a knock on these guys at all, but it would be great to see at least 2 of them donning the red, white and blue. The bullpen is pretty good, with a lot of names you don't know. Collins, Pestano, and Gregerson are all very good relievers. The highlight here is Craig Kimbrel. Undoubtedly the most dominant reliever in baseball, Kimbrel should be able to shut the door for Team USA.
My Prediction
While I want to pick the USA to win it all, I just don't see it happening with this rotation. The other countries such as Japan, Cuba, and the Dominican Republic seem to care much more about this tournament than the Americans do. Be sure to watch their games, as the passion of some of the Latin American teams is incredible for an exhibition tournament. Now I don't know who will be on the other rosters, but I will pick Team USA to lose in the semi-finals. The lineup is very good, but I just don't think the pitching staff will get them to the championship.