Cincinnati Reds
(2012: 97-65, 1st place NL Central)
(2013: FC Prediction: 1st place NL Central)
The Reds won an astounding 97 games in 2012, and they return perhaps an even better team in 2013. In the off-season, the Reds were able to add center fielder Shin-Soo Choo and bring back both Ryan Ludwick and Jonathan Broxton. The Reds possess a very good starting rotation, an awesome bullpen, and a very balanced and deep lineup. That is a very good formula for success in this league.
As long as the Reds are able to stay healthy, in my opinion, they should be able to run away from the rest of the NL Central. They have more talent than the rest of the division and teams like the Cardinals are already dealing with injury problems to some key players. Keep in mind, this team was one win away from beating the eventual World Series champion San Francisco Giants in the Division Series last year.
So how do the Reds stack up this year:
PITCHING: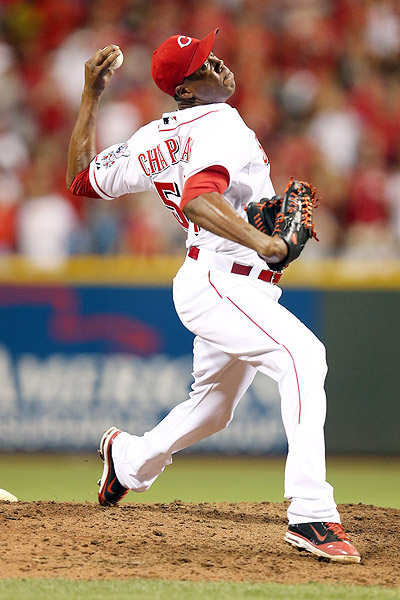 The Reds return the same starting five pitchers as they did last year. Somehow, the Reds were able to completely avoid rotations to the starting rotation as their top 5 were the only 5 to make a start for them. The ace is Johnny Cueto. Cueto doesn't throw exceptionally hard, but he has a deceptive motion, great location, and awesome movement. Bronson Arroyo is the number 2. He is not dominant by any means, but the guy doesn't miss a start and he always keeps his team in the game. Number 3 is Mat Latos. He probably has the best stuff on the team, but his location can be off on occasion. Latos definitely has the stuff to be an ace in this league and should continue to progress. Homer Bailey and Mike Leake are the 4 and 5 and both are solid guys who have middle of the rotation stuff. If this rotation can stay healthy again, they will have no problem keeping the Reds in the game.
After a brief experiment in joining the rotation, Aroldis Chapman decided to remain the Reds closer. The Cuban Missile can reach triple digits and if he can avoid a dead arm period like last year, he is about as shut down of a closer as one can be. He is surrounded by a very solid pen. Jonathan Broxton provides a veteran setup man who can close if asked to. Sean Marshall is one of the best left-handed relievers in baseball. Other guys like Sam LeCure, Jose Arredondo, Nick Masset, and Logan Ondrusek have all been successful relievers at some point in their career. All in all, the Reds have one of the deepest bullpens in baseball.
The Reds are very deep when it comes to pitching prospects. Robert Stephenson is probably the best of the bunch, but he won't be ready for another year or two. Lefty Tony Cingrani and Righty Daniel Corcino are both probably ready to contribute in 2013. Both could end up as bullpen guys, but both will be given a chance to start at some point if there as injury to the rotation. At the worst, both could become very effective relievers in 2013.
LINEUP:
In the infield the Reds are anchored by first baseman Joey Votto. Votto is arguably the best left-handed hitter in baseball. He can absolutely do it all and can even win a Gold Glove at first. Second baseman Brandon Phillips is flashy, but he backs it up. Phillips can win a Gold Glove every year and he can also hit for average, hit for power, and steal some bases. Shortstop Zack Frazier is solid in the field and reliable with the bat. He won't wow you, but he can get some hits for you. Third baseman Todd Frazier has some pop, and while he won't hit for a high average, he can give you 20 or so home runs. The Catching duties will be split by Ryan Hanigan and youngster Devin Mesoraco. Both are solid hitters, and while Mesoraco has more upside, Hanigan is a steady big league catcher.
In the outfield the Reds have Ryan Ludwick in left, Choo in center, and Jay Bruce in right. Ludwick had a breakout season in 2012 and while he might not repeat the type of season he had, he should be able to provide 20 home runs. Choo might be shaky in center on defense as he hasn't played there in the past, but he is an on base machine. Heading into a contract year, Choo should fill the leadoff hole that the Reds so desperately needed last year. The right fielder Jay Bruce has absolute light tower power. He should easily hit 30 home runs and drive in 90 or so runs. The lefty is great in the middle of the order.
The best Reds prospect is Billy Hamilton. Hamilton absolutely flies around the bases, bringing Rickey Henderson type base stealing ability to Cincinnati. If the Reds can find a spot for him this year, he will be a tremendous addition to the team, even if he might be a bit behind with the bat. In full time duty, I see no reason why he can't steal 100 bases, but finding a spot, whether at short or in center, will be the problem.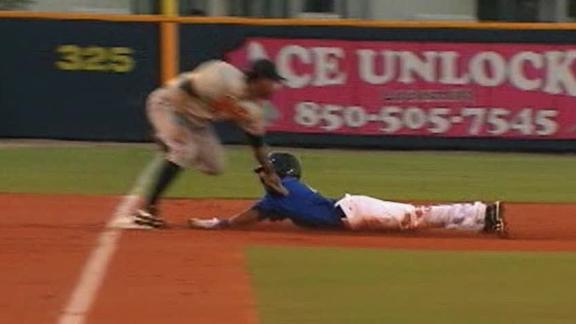 NON-ROSTER INVITEE TO WATCH:
Emmanuel Burris has a chance to make this team as a backup infielder, but the guy who might be able to stick is starter Armando Galarraga. He hasn't been able to find a spot after his near perfect game, but with an injury in the rotation, Galarraga might have a rotation spot locked up. Look for the Reds to stow him in triple A and hope they don't have to use him.
PROGNOSIS:
The Reds might be the most balanced team in baseball, with an extremely balanced lineup, a solid starting rotation, and probably the deepest bullpen in baseball. Add to the fact that they are in one of the weaker divisions in baseball and that is a formula for success. The Reds lineup is flat out scary, and if they can find a spot for Billy Hamilton, they have everything you could ever want in a lineup. I'm not gonna say that they will win this division in a land slide, but I could definitely see them winning by a pretty wide margin and pushing to 100 win mark.
TWITTER ACCOUNT OF THE DAY:
One of the best athletes on Twitter, Brandon Phillips, @DatDudeBP