Happy Thursday baseball fans!! As we get into a bit of a routine here, Chris seems to be handling the Monday recap and I do a later week recap. It seems to be a good way to keep you guys informed of what is going on. If you guys have any suggestions as to what you'd like to see, as always we'd like to hear them.
Today we discuss AJ Pierzynski's first game against his former team, Chase Headley and the massive contract that could be in his future, struggles in the Arizona bullpen, the Red Sox, the best April Major Leaguers, the Brewers against the Pirates, and as always, a bit on the Cubs. For those of you looking for a post about the Wrigley renovations, it will be coming in the near future, but that whole situation just pisses me off, so feel free to get in touch with me if you'd like to hear my opinion on the newest chapter of this soap opera.
AJ Pierzynski vs. the White Sox
This might be biased because I hate AJ with a burning passion, but the classless catcher was at it again last night. After getting hit in the elbow in the 9th inning by closer Addison Reed, Pierzynski jawed at Reed on the entire jog to first base. I understand he's upset about getting hit, but the White Sox were up 4 in the bottom of the 9th, and the way to get AJ out is up and in. Not to mention that AJ obviously stuck his elbow right in the way of the pitch. See for yourself in the video HERE. Here's to hoping the AJ catches one in the ribcage tonight when Peavy takes the hill for the Sox
Chase Headley
Rumor on the street is that the Padres are looking to lock up Chase Headley to a long term deal. To me, Headley is the most underrated player in all of baseball. The guy can flat out hit, for average and for power, and he is a gold glove caliber third baseman. It will definitely be the largest deal in Padres history and look for Headley to get somewhere between 17 and 20 million dollars a year for 5 to 7 years. It's a damn shame too because I was hoping the Cubs could get a crack at Headley, hopefully in free agency, because well, Luis Valbuena isn't very good.
Arizona Pen
The Diamondbacks bullpen has absolutely self-destructed of late. Primary closer JJ Putz has been flat out bad recently, converting just 5 of his 9 save opportunities this year, with an ERA of 4.26. Setup man David Hernandez isn't helping either, as he is 0 for 3 in save opportunities with a 4.61 ERA. With Heath Bell also struggling, look for lefty Matt Reynolds to get an opportunity to close, as he is 2 for 2 in saves and has yet to give up a run in 14 innings of work.
Boston Red Sox
Look at these Red Sox!! Apparently John Farrell is that much better of a manger than Bobby Valentine. With a fairly similar team to last year, the Red Sox appear to have put that disaster in the rear view mirror. Since returning from injury, David Ortiz is hitting nearly 500 in almost 40 at bats. Guys like Mike Carp and Daniel Nava are tearing the cover off the ball. Mike Napoli has a league leading 31 RBIs!!! Perhaps the best performances have come from Clay Buchholz and Jon Lester. The two have a combined record of 10-0, with Lester having an ERA of 3.11 while Buchholz has a sparkling ERA of just 1.01. As the summer heats up, so should the tough AL East race. Ortiz doesn't let fans forget, "This is our f*cking city."
Brewers and the Pirates
I won't go into too much detail here, but how bad are the Pirates at Miller Park. Well, after their win yesterday, the Pirates hold a record of 8-46 at Miller Park since 2007. That's just insane. The Brew Crew is also happy to see the Buccos make the trip to Milwaukee.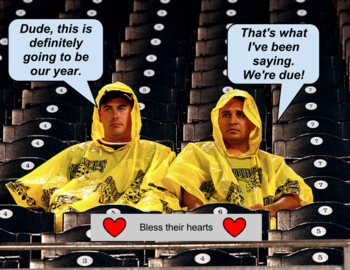 The Cubs
As this blogger has predicted, the Cubs have played much better of late, and have improved to 11-16, winning 5 of their last 7. The bullpen has been fantastic, as has the starting pitching. Kevin Gregg appears to have taken over the closer role (Is it 2009???). The most interesting thing to me is how the return of Darwin Barney has really solidified the defense. What sticks out to me is how much better Starlin Castro has been since Barney's return. He seems to be more focused with Barney in the lineup, as his footwork and timing have been much improved as of late. Shout out to Scott Feldman for his first career complete game last night. I was in attendance on a perfect Chicago night, and Feldman flat out dominated, striking out 12 and even smacked an RBI double. Feldman also had a hit taken away by a diving Everth Cabrera and took a ball to the track in his third at bat. Also, Matt Garza made his first rehab start yesterday, and if he stays on track, should need 2 or 3 more rehab starts until he's ready to join the big league club.
My April MVP and Cy Young Winners
While a lot of players have been fantastic in April, here are my picks for MVP and Cy Young in April:
AL MVP
While some might expect Chris Davis, I'm gonna go with Miguel Cabrera. Miggy only has 4 home runs, but is 2nd in the AL with 29 RBIs and 2nd in batting average at .371. He also sports a .446 OBP.
NL MVP
This is a tough pick, as Bryce Harper has been outstanding, but I have to go with Major League home run leader Justin Upton. Upton is enjoying playing with his brother, as he has 12 home runs while sporting a 299 batting average. Upton also has a .400 on base and has really solidified the powerful Braves lineup.
AL Cy Young
A lot of guys have been very good, including Tigers Anibal Sanchez and Justin Verlander, as well as Rays lefty Matt Moore, but the guy here is Buchholz. 6-0 with a 1.01 ERA on the best team in the American League gets him the nod here.
NL Cy Young
While youngsters like Madison Bumgarner, Matt Harvey, and Patrick Corbin have been excellent, my pick here is Jordan Zimmermann. Not only is Zim a division 3 alum (Wisconsin-Stevens Point), but he is 5-1 with a 1.64 ERA. Zimmermann doesn't have the strikeout numbers of some of the other guys, but opponents are hitting just 168 against him and he has a .75 WHIP, lowest in the NL.
Have a great weekend Full Count readers!! And enjoy this conceptual drawing of the hotel, office building, and plaza at the corner of Clark and Addison