Alright Chicago baseball fans, it's mid May and both of your teams are struggling. White Sox fans, I know you're probably saying, well we were 17-21 last year, we were 17-21 this year, we'll be just fine. I don't respect your opinion and I sure don't agree with you. So let's play a fun game. I'm going to dive into the trade candidates for both the Cubs and White Sox, assuming that both fall out of it and both go into sellers mode (the Sox don't ever do this so it's a big if). So let's look at what Chicago players could be moved:
Matt Garza
The Cubs best trade piece came back today, and threw 5 shutout innings in his debut against the Pirates. Garza is a solid number 2 starter and is probably the best starter available when healthy. If he can prove he is healthy, he could get the Cubs a very good return. The Cubs can also very likely wait it out and offer him arbitration, either getting him back for one more year, or receive a draft pick if he signs elsewhere.
Scott Feldman
Feldman has been lights out lately, with an ERA just over 1 in his last 5 starts. Buster Olney in a recent article called Scott Feldman the best starter available at the deadline. Feldman is on a 1 year deal, so he is a rental, but he has great stuff, even if he doesn't have the greatest track record of success as a starter. Feldman should be able to fetch the Cubs a package similar to what they got for Ryan Dempster last year.
Alfonso Soriano
Soriano is once again at the center of trade talk. His production isn't quite there this year, but the Cubs are willing to eat a large chunk of the money he is owed. With how much it would cost the Cubs money wise, I just don't feel that the return will be worth moving Soriano. Like him or not, he does have a ton of value to the Cubs as a guy who can get hot and a great mentor to the younger players.
Carlos Marmol
Marmol has been the epitome of awful this season. He is still owed quite a bit of money this year, in the last year of his 3 year, 20 million dollar contract. Marmol has little to no value, especially given his price tag. I would be happy if the Cubs could get a bag of baseballs and free pop (seriously, Billy Beane got this in a trade once) in return for Marmol.
David DeJesus
Never fuck with DeJesus!! David DeJesus just continues to be a prototypical lead-off guy for the Cubs, with an average in the high .200s and an on-base in the mid to high .300s. DeJesus also plays above average defense in center field and the Kansas City Royals seem to be a perfect fit. DeJesus, to me, is the guy with the highest chance of being traded, mostly because he carries a lot of value.

Chance traded: 90%
James Russell
Russell is a quality left handed reliever, one of the best in the league, and as the Cubs showed with Sean Marshall a couple years back, you can get a quality return. Bullpen arms are a dime a dozen, and if you can get a quality return for one, you absolutely move him. Even though he is one of two good arms in the pen, you move him if the return is right
Kevin Gregg
Gregg has been remarkable for the Cubs, as he is perfect in save situations and has yet to give up an earned run in his time with the Cubs. Sell high, right? Absolutely!! While Gregg has the track record of being an average reliever, if he keeps this up, you move him instantly to a team that needs a closer. The return should be solid if a team is desperate enough.
Alex Rios
Rios has been great the last two seasons. He hits for power, average, can steal a base, and plays average defense in right field. Rios will most likely be the top bat available if the Sox decide to move him, meaning that teams who need a quality hitter will be chomping at the bit to get him. Rios should easily be able to fetch a top 100 prospect plus a couple other solid prospects so if the Sox fall out of it by July, they should explore moving him.
Jake Peavy
Trade Jake Peavy?? Outside Chris Sale, he's our only good starter!! Well Sox fans, he also is the starter with the most value on your team. He's on a relatively cheap deal, with another year of control after this one. He has proven he can pitch in the AL and NL and seems to have the injuries behind him. If he is made available, he probably jumps into the top spot among starters available. For the Sox sake, if they're anywhere near out of it, they need to restock their farm system, which is among the worst in baseball.
Paul Konerko
Konerko has no trade rights, so they would need his permission to trade him, which I just don't see happening. While Paulie can still hit, he has regressed a bit, which might limit the return the Sox could get. I just don't see the return being worth it for trading your most beloved and longest tenured player.
Matt Thornton
Thornton has regressed, but he is still a quality left-handed reliever who can get both lefties and righties out. He is a good middle reliever, and while he might not bring a great return, sometimes you just have to change things up in the pen.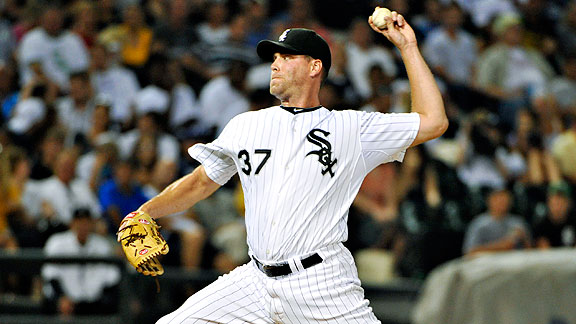 Jesse Crain
Crain has been very effective of late, and while he has more value than Matt Thornton, he still doesn't carry a ton of value as a middle reliever.
It will be an interesting summer in Chicago. The truth is, I see the Cubs trading between 4 and 6 players by July 31st because that is the plan. True to their past, I also don't see the White Sox trading anyone of value. They always seem to stand pat and have always avoided the sell off, mostly because they would not draw as well as the Cubs do when they're bad. Look for the Cubs to sell and be out of it, while the Sox will hover just below .500, ultimately not losing enough games to trade their players, but not winning enough to make the playoffs.