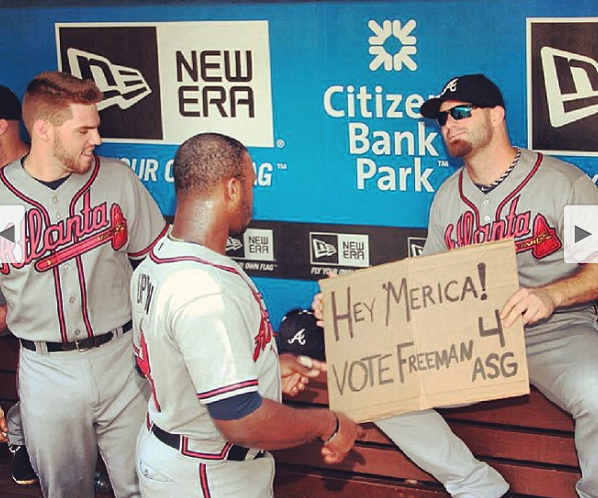 Tommy's All-Star Roster
So Wade has his rosters yesterday, and he got them completely wrong (just kidding Wade, you're alright). All-Star talk is about as hot as Alfonso Soriano right now, so we continue to ride the trend and share our teams, one day at a time.
One common thread, no ManBearPuig to be found. Make a statement and #VoteFreeman
Let's start with the American League roster
C: Joe Mauer, Minnesota Twins
1B: Chris Davis, Baltimore Orioles
2B: Dustin Pedroia, Boston Red Sox
3B: Miguel Cabrera, Detroit Tigers
SS: Jhonny Peralta, Detroit Tigers
OF: Mike Trout, Los Angeles Angels
OF: Adam Jones, Baltimore Orioles
OF: Jacoby Ellsbury, Boston Red Sox
DH: Edwin Encarnacion, Toronto Blue Jays
SP: Max Scherzer, Detroit Tigers
C: Jason Castro, Houston Astros
1B: Adam Lind, Toronto Blue Jays
2B: Robinson Cano, New York Yankees
2B: Jason Kipnis, Cleveland Indians
3B: Evan Longoria, Tampa Bay Rays
3B: Manny Machado, Baltimore Orioles
3B: Josh Donaldson, Oakland Athletics
SS: Jed Lowrie, Oakland Athletics
OF: Daniel Nava, Boston Red Sox
OF: Nelson Cruz, Texas Rangers
OF: Jose Bautista, Toronto Blue Jays
DH: David Ortiz, Boston Red Sox
PITCHERS:
SP: Hisashi Iwakuma, Seattle Mariners
SP: Felix Hernandez, Seattle Mariners
SP: Bartolo Colon, Oakland Athletics
SP: Chris Sale, Chicago White Sox
SP: Yu Darvish, Texas Rangers
SP: John Lackey, Boston Red Sox
RP: Joe Nathan, Texas Rangers
RP: Mariano Rivera, New York Yankees
RP: Greg Holland, Kansas City Royals
RP: Glen Perkins, Minnesota Twins
RP: Grant Balfour, Oakland Athletics
RP: Jesse Crain, Chicago White Sox
My roster doesn't differ much from what the actual roster is. Like Wade, I had to take Josh Donaldson. The guy is 5th in the AL in OPS and is having one hell of a season. A couple more position players that I differ on are Daniel Nava and Jed Lowrie. Nava has been a huge surprise for the Red Sox and has done it all. He has hit for power, gotten on base, and has solidified the Red Sox outfield despite the slew of injuries. Lowrie has been steady as a rock for Oakland. Despite probably being better suited for 2nd base, Lowrie has been able to stay healthy and hit all season long. Adam Lind is another surprise here, but he has been hot all year long for the offensive minded Blue Jays. Pitching wise, the starters have all been very good and the closers have been dominant. Jesse Crain is the lone middle reliever, who despite his injury recently, has been fantastic. He leads all AL relievers in WAR and has been one of the few bright spots for the White Sox all year long. My one surprise starter is Edwin Encarnacion, but he just continues to hit, and even though Big Papi has been excellent, Edwin has provided a ton of pop and deserves the starting nod.
C: Yadier Molina, St. Louis Cardinals
1B: Paul Goldschmidt, Arizona Diamondbacks
2B: Matt Carpenter, St. Louis Cardinals
3B: David Wright, New York Mets
SS: Troy Tulowitzki, Colorado Rockies
OF: Carlos Gonzalez, Colorado Rockies
OF:Carlos Beltran, St. Louis Cardinals
OF: Andrew McCutchen, Pittsburgh Pirates
SP: Matt Harvey, New York Mets
RESERVES
C: Buster Posey, San Francisco Giants
1B: Joey Votto, Cincinnati Reds
1B: Allen Craig, St. Louis Cardinals
1B: Freddie Freeman, Atlanta Braves
2B: Brandon Phillips, Cincinnati Reds
3B: Pedro Alvarez, Pittsburgh Pirates
SS: Everth Cabrera, San Diego Padres
SS: Jean Segura, Milwaukee Brewers
SS: Ian Desmond, Washington Nationals
OF: Starling Marte, Pittsburgh Pirates
OF: Carlos Gomez, Milwaukee Brewers
OF: Michael Cuddyer, Colorado Rockies
OF: Dominic Brown, Philadelphia Phillies
PITCHERS
SP: Jordan Zimmerman, Washington Nationals
SP: Stephen Strasburg, Washington Nationals
SP: Travis Wood, Chicago Cubs
SP: Adam Wainwright, St. Louis Cardinals
SP: Jeff Locke, Pittsburgh Pirates
SP: Patrick Corbin, Arizona Diamondbacks
SP: Cliff Lee, Philadelphia Phillies
SP: Clayton Kershaw, Los Angeles Dodgers
SP: Jose Fernandez, Miami Marlins
RP: Jason Grilli, Pittsburgh Pirates
RP: Mark Melancon, Pittsburgh Pirates
RP: Craig Kimbrel, Atlanta Braves
Just like I went third base heavy on the AL side, I went shortstop heavy on the NL side. Segura, Cabrera, and Desmond have all been great for their respective clubs. Starling Marte has provided some pop as well as a ton of speed. Michael Cuddyer had to be on here following his long hit streak. Matt Carpenter may be a surprise starter here, but when taking all things into account, I feel that he has been better than Brandon Phillips. Pedro Alvarez has been incredibly hot the last month or so and has forced his way onto this team. The pitching is much more starter heavy than the American League, simply because there are more quality relievers in the AL. Lefties Corbin, Locke, and Wood are all surprises, but all of them have been incredible this year. Wood has 17 quality starts in 18 total starts. Rookie Jose Fernandez is the lone Marlins rep, well mostly because there is no one else worth taking. The 8th and 9th inning duo for the Pittsburgh Pirates are both here for me. Grilli has been great, but Melancon has perhaps been better, earning him a roster spot.
Well there are my All-Star teams. There may be some guys you agree with and some that you don't, but that's the fun of the All-Star game. Even the so called "experts" don't agree on the guys that should or shouldn't be there. If you think I picked someone who doesn't belong, or if I snubbed anyone, please share your thoughts with me, and I will gladly tell you why my picks are right and yours are wrong. But in all seriousness, we live on feedback and just thoroughly enjoy to argue baseball.
Also here are your Home Run Derby contestants:
AMERICAN LEAGUE
Prince Fielder, Detroit Tigers
Chris Davis, Baltimore Orioles
Robinson Cano, New York Yankees
Yoenis Cespedes, Oakland Athletics
NATIONAL LEAGUE
Carlos Gonzalez, Colorado Rockies
Michael Cuddyer, Colorado Rockies
David Wright, New York Mets
Bryce Harper, Washington Nationals
Who you got???? I'll take Bryce Harper because well, he's Bryce Harper
Up tomorrow is Chris with his All-Star roster, which will without a doubt be the worst of the three of us, I can tell you that much.