Last night, the Braves and the Nationals met in a great pitcher's duel, but the performances of Julio Teheran and Gio Gonzalez were overshadowed by a couple incidents involving Teheran and, surprise surprise, Bryce Harper. While the Nationals aren't as good as people expected them to be, this is still a pretty good rivalry between the two best teams in the National League East (sorry Mets and Phillies fans...And the one Marlins fan left). Yesterday, we saw some fireworks, starting in the first inning and coming to a head in the fifth. Let's take a look at what happened:
In the first inning, Bryce Harper launched a home run to dead center. You can see it a little in the video, but Harper chooses to admire his blast, much to the dismay of Julio Teheran. By the time the ball landed, Harper was probably only halfway to first, and in this blogger's opinion, he absolutely showed up Teheran by the way he watched his ball leave the yard. Teheran made a mistake and Harper crushed it. While I love the way Bryce Harper plays the game, in this case, he should have just put his head down, jogged around the bases, and celebrated with his teammates in the dugout. Now let's fast forward to the 5th inning:
Harper steps up to the plate with a base open and 1 out. Teheran proceeds to plunk him right below his backside. Harper takes offense to this, but he doesn't charge the mound, which I respect. Harper jaws at Teheran and any other Brave in his way while he walks down to first base and the benches clear. How funny is it when the guys from the bullpen jog in and just stand there?? After a minute or two, things fizzle out and everyone heads back to where they belong, despite Harper still dropping F bombs left and right.
Last but not least, things continued on Twitter between the official accounts of the Braves and Nationals. The Braves started thing by firing off this tweet.
Clown move bro
— Atlanta Braves (@Braves) August 7, 2013
In response to this, the Nationals came back with this: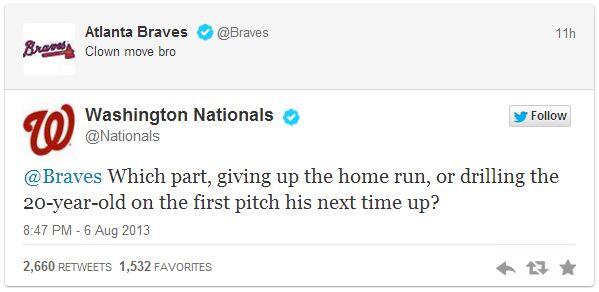 I love when professional baseball teams act like 12 years old on Twitter.
To me, this whole incident was the PERFECT way to handle things in baseball. Harper started this all by admiring his home run for way too long. Teheran knew that he had to teach Harper not to show him up. Did he do this in the late innings? Did he go above the shoulders when he hit him? The answer to these is no. He hit Harper when the situation called for it, with an open base and one out. He also hit Harper below the butt, where he'll do nothing more than leave a bruise. I respect the way Teheran handle his business and I also respect Harper for not charging the mound. Guys these days are too quick to turn baseball into the UFC. Harper took his base while letting Teheran know, rather profanely, that he didn't like being hit. Even though the benches cleared, everyone remained level headed and nothing escalated. These are rivals, but nothing more should stem from this. Harper showed Teheran up, Teheran explained to him with a 95 mph fastball to the thigh that you don't do that, Harper got mad, but took his base, and the game went on.
Kudos to the Braves and Nationals, as that was one of the more enjoyable games all year from start to finish.