St. Louis Cardinals
(2012: 88-74, 2nd Place NL Central)
(2013: FC Prediction: 3rd Place NL Central)

As a Cubs fan, it is really hard for me to write an objective preview about the Cardinals. The Cardinals are about as good of an organization as there is in all of professional sports. They not only have loads of talent at the Major League level, but they also have the top rated minor league system in all of baseball.
After that blurb, you're probably wondering how we picked the Cardinals to finish third in the division. Well, you can thank Chris and Wade for that. While I had the Cards in second, Chris and Wade both had the Pirates finishing ahead of them. The upstart Pirates could pose a threat, but this Cardinals team should be good yet again. They always seem to find players that no one has heard of, yet they continually contribute.
Let's look at the Cardinals roster a little more in depth:
PITCHING:
Despite the losses of Chris Carpenter due to injury and Kyle Lohse (although he could still come back) to free agency, the Cardinals still have a very good rotation. Adam Wainwright is the ace of the staff, and he should be just fine. 2012 All-Star Lance Lynn returns to the rotation after going back and forth between the rotation and the pen last year. Jake Westbrook and Jaime Garcia will be the number three and four starters, while top prospect Shelby Miller should claim that number five spot. Miller had a brief successful stint in 2012 and is one of the best pitching prospects in all of baseball.
The bullpen is led by closer Jason Motte, who was among the best in the league last year. Other names in the pen include righties Mitchell Boggs and Fernando Salas and lefties Randy Choate and Mark Rzepczynski will all eat up innings. Perhaps the most interesting guys in the bullpen will be some of their top prospects. Trevor Rosenthal will almost assuredly be in the pen, but Carlos Martinez will be the wild card. He could easily crack the bullpen and Rosenthal and Martinez will both be power arms either in the Cards pen or in the rotation at some point.
LINEUP:
The Cards will return the same exact lineup as they had in 2012. Around the infield they have David Freese at third, Rafael Furcal at short, Daniel Descalso at second, and Allen Craig at first. The thing with the Cardinals is you know what you're getting. Freese and Craig will hit, there is no doubt about that, but the Cards aren't great up the middle. Descalso is by far the weak link of this team and Furcal struggles with injuries. Ronny Cedeno and Pete Kozma will be ready to step in if Furcal goes down. Behind the plate the Cardinals have one of the best catchers in baseball, Yadier Molina. Molina's bat has improved immensely since coming into the league, but his glove has remained constant. Molina is probably the best defensive catcher in baseball. He is a great game caller, blocks everything behind the dish, and has one of the best arms in baseball at the catcher position.
In the outfield, the Cardinals have Matt Holliday in left, Jon Jay in center, and Carlos Beltran in right. Holliday will be his usual self again and should have plenty of success. Jay broke out in 2012 and I look for him to continue to get better in 2013. Jay already plays a great center field, but his bat took a big step forward last year. Carlos Beltran is a great hitter, but he is getting up there in age and has had trouble with injuries in the past. Matt Carpenter will be ready to step in and play any position if there is an injury.
Oscar Tavares is one of the best prospects in baseball. The consensus top 5 prospect should be an awesome outfielder for years to come. Most feel he is ready for the big leagues, but there really isn't a spot for him. If Beltran goes down, look for the Cards to call on Tavares. Second baseman Kolten Wong doesn't have the same problem as Tavares. If he is ready, he should be able to step in right away and play second base given that Daniel Descalso, well isn't very good. Wong should be the regular second baseman in St. Louis at some point in 2013.
NON-ROSTER INVITEE TO WATCH:
There really aren't any names that stand out on this list, so I will go with the prospects as a whole with the best shot of making the team. Oscar Tavares, Kolten Wong, and Carlos Martinez are all guys who are on non-roster invites who have a legit shot of being with the team this year. While none probably break camp with the team, I see all three being up at some point this year.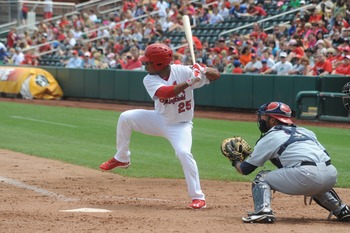 PROGNOSIS:
The Cardinals will definitely compete for the division this year. There is probably a bit of bias from these bloggers when we made our predictions because Chris and I are not big fans of the Cards. If you have a problem with our bias, we really don't care, but feel free to tell us how you feel. The truth of the matter is I fully expect the Cardinals to make the playoffs in 2013, but I really hope they don't. They are deep in talent across the board and they not only have quality veterans, but they have some quality prospects that are ready for big league action. Look for the Card to make some noise this year.
TWITTER ACCOUNT OF THE DAY:
I don't promote following any St. Louis Cardinals on Twitter, but since I have to pick one, go ahead and follow David Freese, @dfreese23