Tampa Bay Rays
(2012: 90-72, 3rd Place AL East)
(2013: FC Prediction: 2nd Place AL East)
The Rays always seem to be near the top of the AL East standings in recent years despite a low payroll, and 2013 should be no different. The Rays were very active in the off-season, trading away stud pitcher James Shields, but receiving two top notch prospects in return in Wil Myers and Jake Odorizzi.
The Rays, as has been in years past, are built on strong starting pitching. Even after trading number 2 starter Shields, the Rays still boast one of the top rotations in the league behind 2012 AL Cy Young winner David Price. Evan Longoria coming back strong should help the lineup, but the Rays will once again attempt to win behind their strong staff.
Here is what the Rays team looks like:
PITCHING:
As mentioned before, David Price is the absolute ace of this staff. He is followed by youngsters Jeremy Hellickson, Matt Moore, and Alex Cobb. Hellickson is a contact pitcher who has good stuff, but will need to miss a few more bats. He was a bit lucky the last couple years, as his FIP was much higher than his actual ERA (for you sabermetric nerds). Moore was up and down in 2012, but with another year under his belt, Moore should be much improved. Cobb is a solid number 4 and Jeff Niemann will be the number 5. Prospect Chris Archer is also knocking on the door for that number 5 spot.
Closer Fernando Rodney will look to repeat on his incredible 2012 season, where he was probably the best reliever in the American League. The pen is solid after Rodney, with names like Joel Peralta, lefty Jake McGee, and Kyle Farnsworth. "The Farns" looks to come back in 2013 following an injury plagued 2012. The pen after that is a bit of a question, but they will need contributions from other guys in the middle innings.
The Rays have a deep stock of minor league pitching. Guys that are further down the road include Taylor Guerreri, Blake Snell, and Mike Montgomery, but they also have guys who are closer to the big leagues like Chris Archer and Jake Odorizzi. If anyone goes down, either of these guys should have shot to crack the rotation, or either might be able to slot nicely into the bullpen given the lack of depth in that area.
LINEUP:
Evan Longoria is the cornerstone of the Rays lineup, and he is once again slotted in at third base. The Rays got better at shortstop when they traded for Yunel Escobar. Escobar has a good glove and can hit a bit, as long as he keeps the off the field hi-jinx to a minimum. Ryan Roberts will play second base, and he has quite a bit of power. His glove might be below average there, but he should get his fair share of home runs. Former Dodger James Loney was brought in to play first. Loney will look for a fresh start in Tampa and should rebound nicely.
Jose Molina will be the catcher for the Rays in 2013. He's not much of a hitter, but he is great with the glove. Molina would probably serve better as a backup, but he will be thrust into full time duty due to a lack of catching depth. Luke Scott will be the primary designated hitter for the Rays. It is a good role for him and he should enjoy success. Utility man Sean Rodriguez will backup at all the infield spots and should get a good amount of playing time.
In the outfield the Rays will have Matt Joyce in left, Desmond Jennings in center, and Ben Zobrist in right. Joyce can definitely hit, and should hit for both average and power in the middle of the lineup. Jennings can flat out run, both on the base paths as well as in the outfield. He should continue to improve as he becomes more experienced. Zobrist is the extreme utility guy, and his bat is one that needs to be in the lineup. He can play anywhere on the field and most likely will line up at third, short, second, first, right, or DH this year.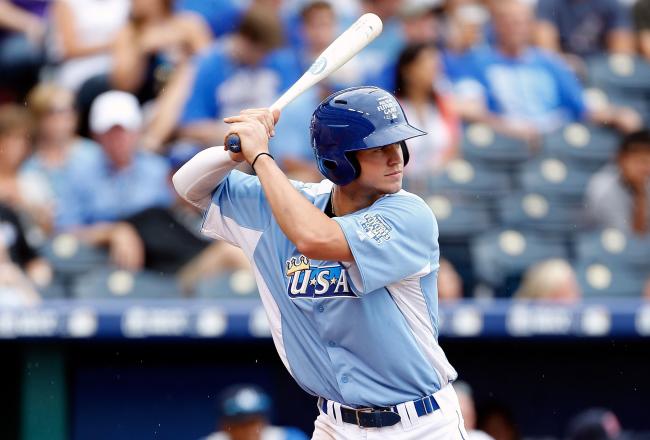 The Rays have a couple of big name prospects in the field. Wil Myers is the best of the bunch. Myers has tons of power and should be up pretty early on in the season. The Rays need his bat and he could be in right field as early as May or June. The Rays other good hitting prospect is shortstop Hak-Ju Lee. Lee isn't the best hitter, but he should hit for a decent average. He is however a great fielder, both with his glove and his arm. If Escobar or Roberts goes down in the middle infield, Lee could be up this year.
NON-ROSTER INVITEE TO WATCH:
While he doesn't have a great chance to make the team out of camp, the non-roster guy to watch is none other than the legend himself, former Concordia Cougar pitcher and coach JimPaduch. After a long road, it is good to finally see Paduch in a big league camp. The guy is one of the hardest workers that I've ever met, and if anyone deserves to be in the big leagues it is him. One can only hope that Jimmy is up with the club this year at some point.
PROGNOSIS:
The Rays have a solid team once again, and they should be able to compete in the very tough AL East. Their pitching staff will keep them in games, and they should be able to hit just enough to win. Wil Myers should be up at some point and will definitely help, as he has a ton of power. Due to our point system, we had the Rays just missing the playoffs, but I can easily see the Rays either winning the East or going into the playoffs as a Wild Card. Look for the Rays to stay in it all season long.
TWITTER ACCOUNT OF THE DAY:
David Price is definitely the guy to follow here, as he is constantly tweeting and is very entertaining. Go check him out @DAVIDprice14