It's the Most Wonderful Time of the Year (As sung by Andy Williams, not Tommy Meyers)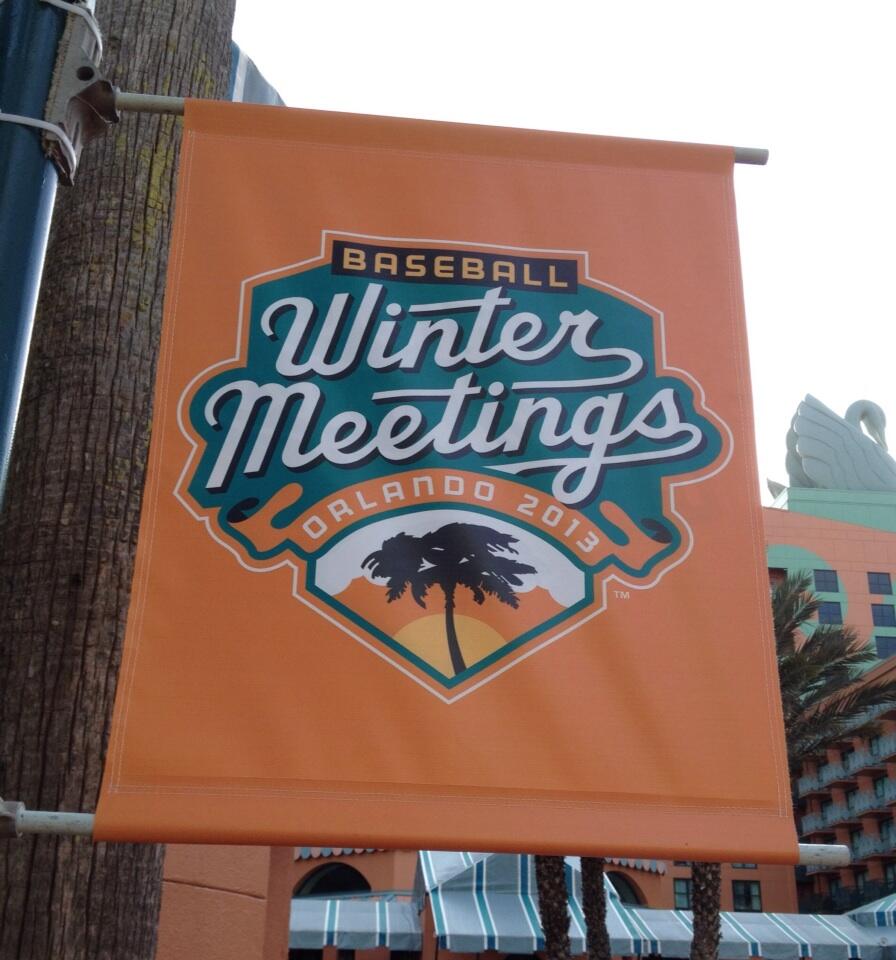 It's that time of year, the time when the Winter Meetings begin in some warm weather city (Last year was Nashville, this year is Disney World in Orlando, my 2 favorite vacation spots. Damn me for not being successful). Today, Bobby Cox, Tony LaRussa, and Joe Torre were elected to the Hall of Fame, well deserved for three of the best managers of all time. Roy Halladay signed a one day contract with the Toronto Blue Jays and then retired. Seeing Doc pitch was a thing of beauty, and he will definitely be missed. Throughout the week, multiple free agent signings and trades will be conceived and announced and it will all culminate with the Rule 5 Draft on Thursday. Sit back and enjoy as Orlando will be all about baseball the next 4 days!
We've been busy with our actual jobs, so we've been slacking through perhaps two of the craziest days that the MLB off-season has seen in a long time.
For more through coverage than we will give you, check out some of our favorite sites, which include MLB Trade Rumors, Bleacher Nation, and Twitter. Some great national guys to follow on twitter include Ken Rosenthal, Jon Heyman, Jerry Crasnick, Jeff Passan, Jayson Stark, and wunderkind Chris Cotillo. Seriously, check out Cotillo, I hate the kid for doing what he's doing, but only because it's incredibly impressive. He is a high school senior who is breaking news (like the Ricky Nolasco signing, originally reported by Chris). Some of my favorite Cubs related twitter follows include Patrick Mooney, Sahadev Sharma, John Arguello (Cubs Den), Tom Loxas, Julie DiCaro and Bruce Miles. A couple of my other favorite follows include prospect guru Jason "Professor" Parks and comedic geniuses Jake and Jordan from Cespedes Family BBQ.
So what have we missed. Robinson Cano is a Mariner. Brian McCann, Jacoby Ellsbury, Hiroki Kuroda, Kelly Johnson, and Carlos Beltran are New York Yankees. Edward Mujica, AJ Pierzynski, and Mike Napoli are Boston Red Sox. Ricky Nolasco and Phil Hughes are Minnesota Twins. Curtis Granderson is a New York Met. Justin Morenau is a Rockie, Jarrod Saltalamacchia is a Marlin, Nate McClouth is a National, Joe Nathan is a Tiger, and there are many, many more. Check them all out HERE
Thanks for reading, now just sit back and enjoy the next couple of days and soak up all the baseball hot stove goodness. Talk to you soon baseball fans!!